Home > Blog > Technology
10 reasons why you need a VPN at the start of a new decade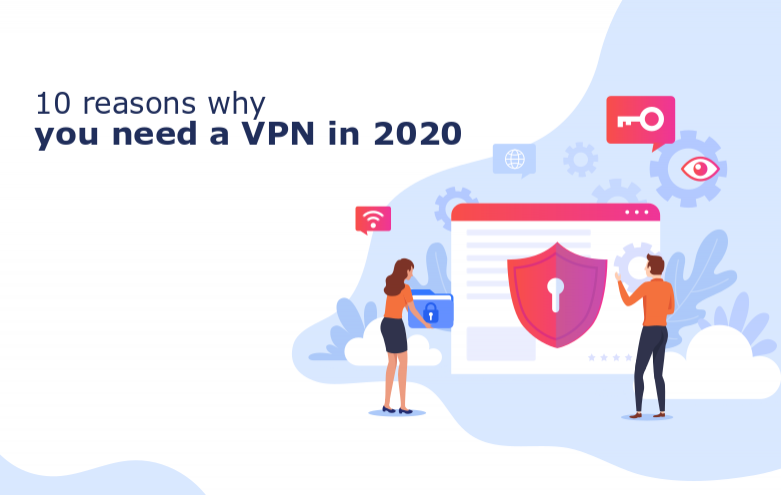 New year, a new decade, new challenges.
The world we live in becomes more digitalized day by day. Like it or not, you need to keep up with the latest online trends and tools meant to ease the way you browse the web.
Without a doubt, the VPN is one of the most hype tools all responsible internet users should be aware of. Even if this technology became popular a while ago, not all of us know the reasons why having a VPN is a must in 2020.
What is a VPN service?
VPN technology is one of the easiest to use online tools. Launched as a corporate security solution, the VPN quickly became popular among internet users looking to secure their internet traffic and anonymize their online activities.
By combining a VPN server, with a VPN protocol, and an encryption standard, the VPN is capable of encrypting your traffic and keeping all your activities secured and anonymous.
The 10 reasons why having a VPN is a must in 2020.
Use a VPN to hide your IP address. You don't have to do illegal stuff on the web to be interested in protecting your online privacy. Your IP address leaks some important information about you that you may want to keep anonymous. By using a VPN and connecting to a VPN server, you are automatically given a new IP address associated with the VPN server you choose for your connection. In this way, all the traffic generated from your device, cannot be assigned to you or your location. An important thing that you should keep in mind is that VPNs have their flaws. So, testing your VPN connection before surfing the web is mandatory.
A VPN encrypts your traffic. Encrypting your traffic will keep all the curious eyes, including hackers, away from your precious online data. VPN's military-grade encryption helps you rest assured that important information like your account credentials, bank account details, and even the website you visit are not compromised.
Remote control. Digital marketers and remote workers, can you hear me? With a VPN installed on your mobile device, you can connect to your company's network in complete anonymity, privacy, and security while working remotely or enjoying a cocktail at the beach.
The VPN helps you bypass internet censorship. Internet censorship is taking the Internet by storm, and the only way to fight back governments and ISPs is by using a VPN. So, if you live or travel in a country with high censorship, a VPN can help you regain your online freedom.
Bypass DPI and firewalls. The Great Firewall of China is not visible from the Moon, but it will surely hit you, as soon as you try to access Facebook, Skype, or any other popular website that is blocked in China. As you might have already guessed, a VPN will help you in this case too. By connecting to a VPN server located outside China, you will be able to access all the websites you desire, without much hassle.
Unblock media streaming services. BBC iPlayer, Pandora, or Netflix are at a few clicks away with a VPN. By changing your IP address and encrypting your traffic, the VPN is capable of tricking the advanced blocking algorithms of this streaming giants into seeing your locating as an eligible one. Therefore, by enabling the VPN connection, you will be able to access BBC iPlayer outside the UK. Cool, right?
Better connections. I don't know if you're aware, but your ISP can regulate your internet connection based on your online habits. As your ISP is capable of seeing in plain text everything you do online, it is also capable of throttling your connection, in case you're a heavy streamer. Streaming or downloading content requires a huge amount of data therefore, your ISP may punish you. With a VPN, you can keep all these online activities anonymous and your bandwidth untouched.
Securing your torrenting activities. Contrary to all appearances, downloading torrents is a completely legal online activity, as long as it does not imply downloading and sharing copyrighted materials. Still, there are a lot of hackers waiting for you do make a wrong move while downloading torrents, and, in such a case, a VPN will help you secure your P2P file-sharing activities.
Enhance your gaming experience. Just like streaming websites, some games can be blocked in certain countries. With a VPN, you can forget about DDoS attacks, dreadful ping times, and skip the restrictions.
Save money. It sounds crazy, right? With a VPN installed on your device, you can save money while booking your next holiday or when paying for a plane ticket. Some agencies practice preferential prices based on the website visitor's location. With a VPN you can change your location anytime you want, and you can try out your luck in saving money.
What you need to know before subscribing to a VPN.
Using a VPN is definitely not rocket science, especially when you have the VPN apps to help you enable a connection with just a click. Still, there are a few important things you need to be aware of before getting a VPN of your own.
Never use free VPNs. The whole purpose of a VPN is to ensure your online privacy and anonymity. Free VPNs know nothing about online security, as such providers don't have NO logs policies and can always sell their users database, including all the personal information they have on their users.
Always look for trustworthy VPNs. When you subscribe to a VPN, you trust your provider with all your online activities. That's why picking a trustworthy provider is mandatory.
The number of server locations. The number of VPN server locations is important, especially if you want to use the specific VPN to bypass online restrictions or to access blocked websites.
Check the VPN protocols list. Besides the VPN server, the number of VPN protocols is also important, as the protocol dictates the level of security for your connection. Therefore, make sure you'll be able to use powerful protocols like OpenVPN, SSTP, or Stealth VPN.
Technical support. Even if you can enable the VPN connection with just a click, troubleshooting may be necessary. In this case, a friendly tech support team can prove to be super helpful.
Are you ready to take your online activities to the next level?
Adapting to the latest digital trends may require just a pinch of open-mindedness. A VPN may prove itself pretty useful in such a situation, so it is the smart thing to start with.
Start this new decade by setting some out-of-the-box online goals like taking your online activities at the next level with the help of a VPN.